Expert Masonry Estimating Services for Your Peace of Mind
Get your estimates promptly, so you can move forward with your masonry projects without delays.
Masonry Estimate by
Peace Estimating
Welcome to Peace Estimating, where precision meets craftsmanship. We pride ourselves on providing transparent, detailed, and user-friendly masonry estimates for a variety of projects. Our experienced team works diligently to ensure you receive an accurate forecast that respects both your vision and your budget.
Here, we will discuss the key factors that set us apart in the world of masonry estimating
Expertise in Masonry Estimating: At Peace Estimating, we understand the intricacies of masonry projects like no other. Our team consists of experts who have a deep understanding of masonry materials, construction methods, and project requirements. We leverage this knowledge to provide you with precise and detailed estimates.
Accurate Quantity Takeoffs: One of the critical aspects of masonry estimating is precise quantity takeoffs. We use advanced software and technology to ensure that every brick, block, and mortar is accounted for accurately. This attention to detail ensures that your project stays on budget and on schedule.
Cost Estimation: We go beyond just quantifying materials; we also provide you with comprehensive cost estimates. By factoring in market prices, labor costs, and project-specific variables, we offer a realistic budget projection, helping you plan and allocate resources effectively.
Timely Delivery: At Peace Estimating, we value your time. We are committed to delivering estimates promptly, ensuring you can make informed decisions and keep your project moving forward. Our team knows that time is of the essence in the construction industry.
Tailored Solutions: We understand that every masonry project is unique. Our estimating services are highly customizable to suit your specific needs. Whether you're working on a residential build, a commercial project, or a historic restoration, we adapt our services to match your requirements.
Transparent Reporting: Transparency is key in our estimating process. We provide clear, detailed reports that break down the estimate into easily understandable components. This empowers you to make informed decisions and manage your budget effectively.
Cost-Saving Recommendations: Beyond providing estimates, we offer cost-saving recommendations to optimize your project. We identify potential areas where you can reduce costs without compromising quality, helping you maximize your investment.
Client-Centric Approach: We pride ourselves on our client-centric approach. Your satisfaction is our top priority, and we're always available to address your questions and concerns. We believe that strong client relationships are the foundation of our success.
We have been privileged to work with a diverse range of clients, from private homeowners to large commercial developers. Some of our most notable collaborations include:
Types of Projects We Undertake
Our Expertise: Types of Projects We Navigate
Preliminary Estimates
For conceptual designs and early planning stages.
Detailed Estimates
Full breakdowns including labor, material, and overhead costs.
Quantity Takeoffs
Itemized list of materials required for the project.
Bid Estimates
For contractors preparing to submit bids for projects.
Time & Cost Estimates
For clients who need an understanding of the project's timeline alongside the cost.
Types of Estimates We Prepare
Items we Covered in Masonry Estimate
Material Quantities & Costs
Bricks, blocks, mortar, etc.
Labor Costs
Based on the complexity and scope of the project.
Equipment Costs
Any machinery or tools required for the project.
Overhead
Operational costs including licenses, insurances, and other miscellaneous expenses.
Special Requirements
Such as custom-made materials or special finishes.
Contingencies
A small percentage set aside for unforeseen circumstances or changes.
Why Choose Peace Estimating?
Accuracy
Our team of experienced estimators is adept at providing accurate measurements, ensuring that your projects are neither over-budget nor lacking in materials.
Experience
With years of field experience, we bring hands-on knowledge to each project. This ensures that our estimates account for on-ground realities.
Technology
Utilizing the latest software and tools, we deliver estimates that are not only accurate but also presented in a detailed and clear manner.
Timeliness
We understand the importance of time in construction projects. Our estimates are delivered promptly, helping you stay on schedule.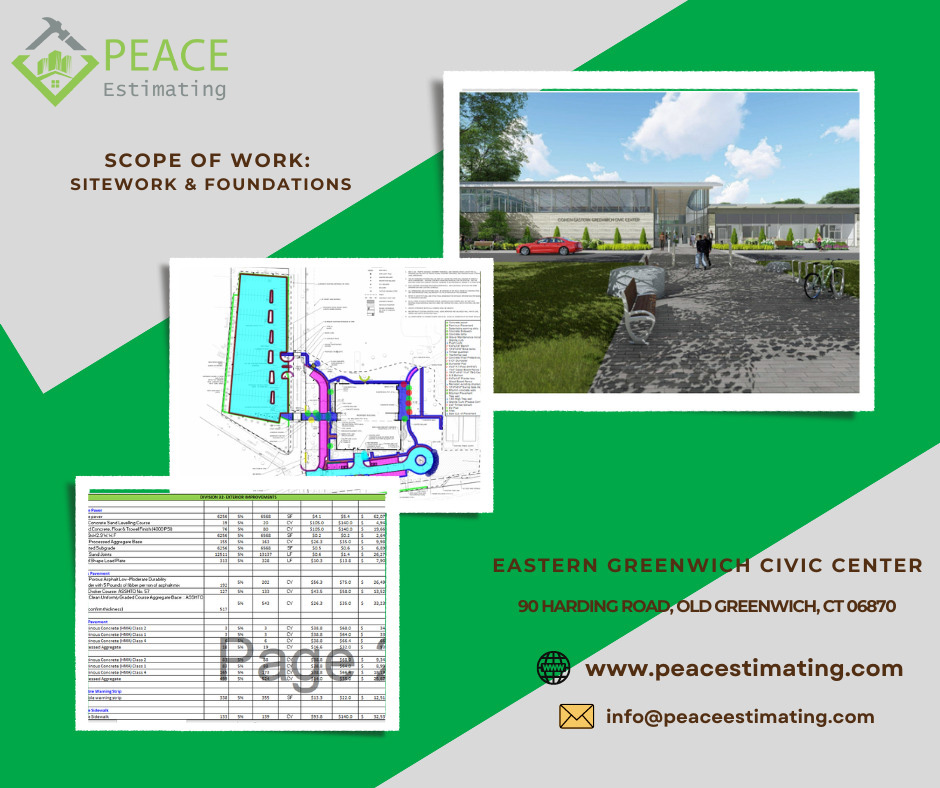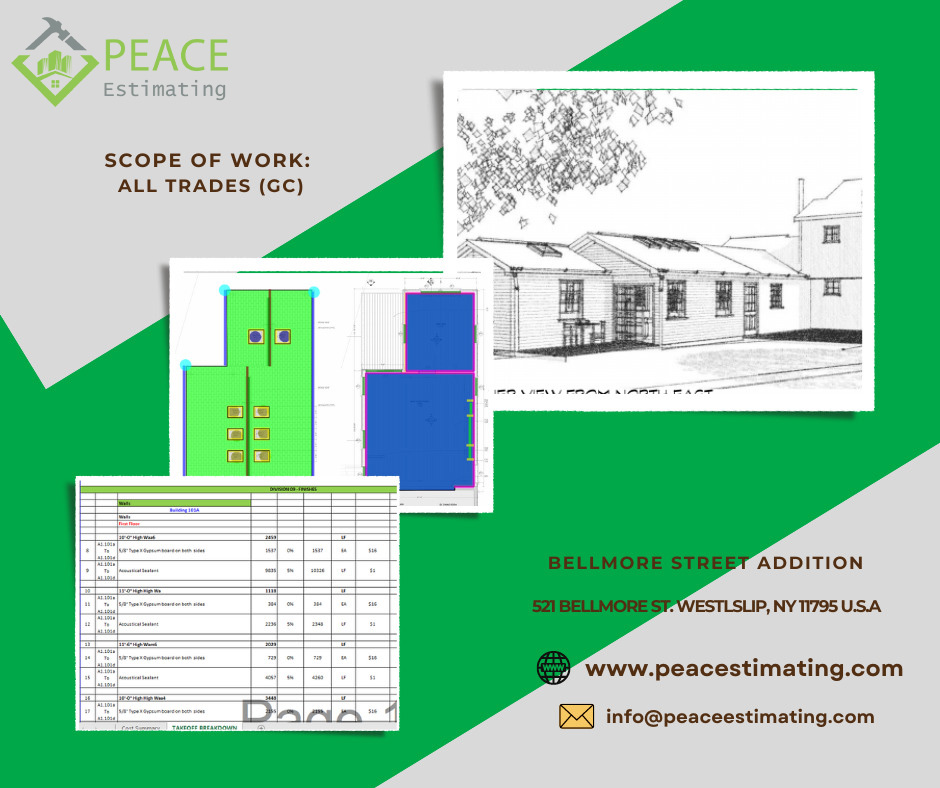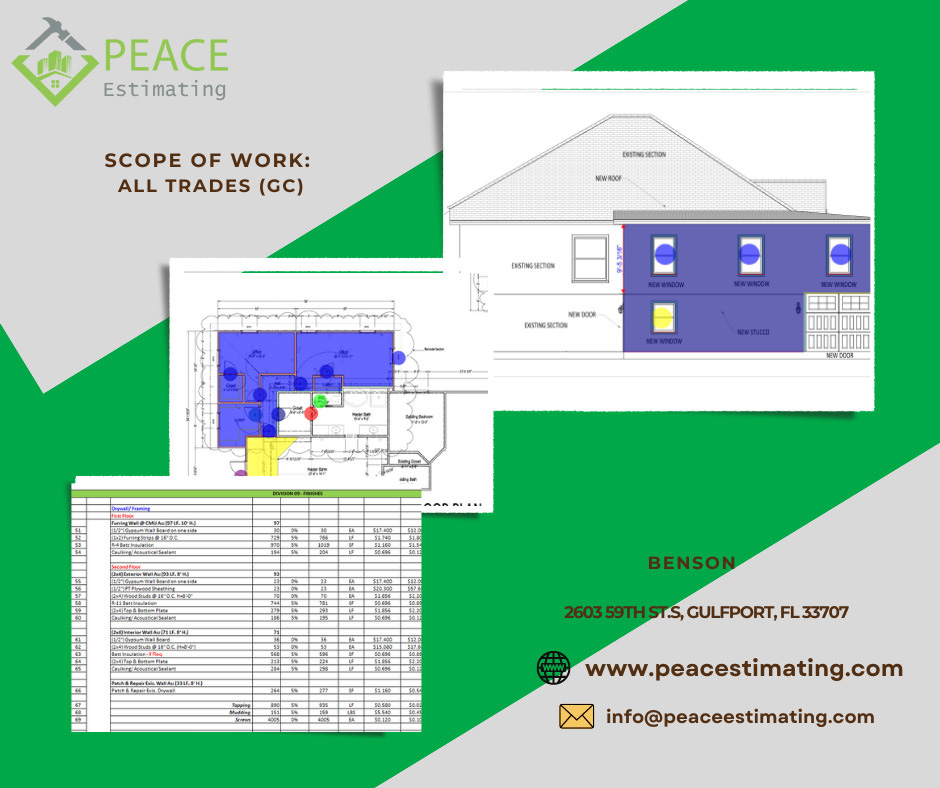 Frequently Asked Questions (FAQs)